Dark Sky Star Gazing
Interested in learning about the night sky?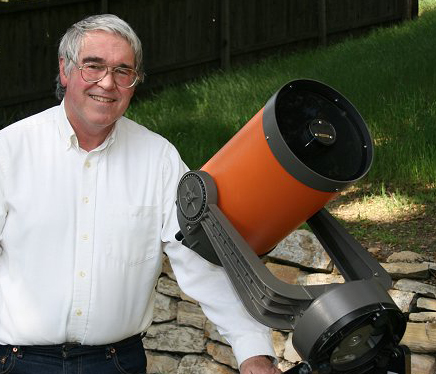 We have several different star gazing events you can participate in. They are fun, free, and very educational. We offer several ways to observe the cosmos for the total beginner through experienced astronomer through our many different events, including Sidewalk Astronomy, Dark Sky Star Parties (see below), Solar Viewing opportunities, Beginner Astronomy classes, Outdoor Planetarium Shows and more.
Check the calendar for the latest updates and location info. The information below is for the Dark Sky Star Party events, one of our most popular events we host.

The Dark Sky Star Parties are star gazing events we hold once a month when the moon is new (or close to it) so we can see as much of the sky as we can. They are very dark nighttime gathering to view the cosmos through telescopes and binoculars. For some people this is one of their high points each month!
These events are free and open to the public, and also weather-permitting. Weather and event status updates are posted HERE. (Beware that sometimes event updates are not posted on the CCAS website at the last minute, so bottom-line: you must understand that driving for a star party can be iffy weather-wise.)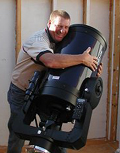 If you're got a large, bulky telescope, please arrive before sunset to set up. If you arrive after dark (e.g. you need headlights to see the road), DO NOT drive toward the telescopes! Park in an area that doesn't disturb the night vision of the astronomers.
It is a very friendly atmosphere. The astronomers who participate with their telescopes are always happy to share their passion for astronomy with each other and with anyone who decides to join them for the evening. The public is welcome to attend, learning a little something about telescopes and the skies and hopefully developing an excitement about astronomy.
---
Our next Dark-Sky Star Party is slated for
Saturday, April 26 at TWO DIFFERENT LOCATIONS at sunset.
Happy news! We are planning to star gaze at two locations: one in north county and the other in south county. You are welcome to go to the one that best fits your needs. We have telescopes and astronomers at both sites.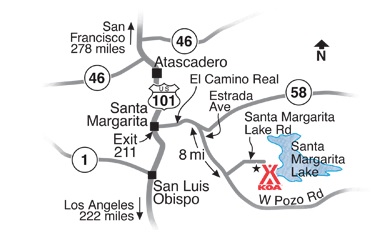 North County Star Gazing Location: Located at the Santa Margarita KOA Campground on "Star Party Hill".
From Hwy 101, take Exit 211 for Santa Margarita Lake.
Go 1.8 miles through the small town of Santa Margarita.
Turn Right on Estrada Ave./Highway 58.
Estrada Ave. becomes "J" St. which turns into W. Pozo Rd.
Continue straight on W. Pozo Rd. for about 7 miles. (Follow sign to Santa Margarita Lake. Do not turn left on Hwy. 58. No matter what your GPS or MapQuest says… do not take Hwy 58 to find us or 41 through Atascadero!)
Turn Left on Santa Margarita Lake Rd.
Go 1/2 mile up the hill. The KOA will be on your right.
Go past the main office and look for "Astronomy" signs on your right directing you to the observing site.
Look for telescopes on top of a small hill.
Park at the BOTTOM of the hill. Do not drive up the hill unless you have a telescope. It's a five minute walk up the hill.
---
South County Star Gazing Location: Located at a private sports field facility owned by Talley Vineyards. It's only 20 minutes from downtown SLO.
Please note – this star gazing event is NOT at Talley Vineyards, but at a location on Talley Vineyard's private property.  Here's how you find it.
 Take Lopez Drive toward Lopez Lake.
Make a RIGHT onto Trout Farm Road. If you already know where Biddle Park is on Lopez Drive, Trout Farm Road is 0.7 miles east of Biddle Park. If not, Trout Farm Road is 2.0 miles east from the intersection of Orcutt and Lopez Drive. Look for signs – we're posting them at Trout Farm. If you've gone to the Lake, you've missed Trout Farm Road.
As soon as you cross a small bridge, immediately stay to the right and go past a tree growing in the middle of the road (no kidding).
For folks WITHOUT a telescope, park BEFORE you get to the fence and portable restrooms on the left side. You'll see a sign that says "Star Gazing" on the fence. Walk past the fence and onto the field where the scopes are.
For folks WITH a telescope, drive through the fenced area and park along the side of the road (please do not drive on the grass) and unload. There's a LOT of space to set up, so find the right spot for you. You'll need to park your vehicle to behind the fence (with the rest of the folks) once you're set up.
Physical address of OJ Talley fields is 4294 Lopez Drive, AG 93420.
---
Be sure to get on our email list so you can get the latest information for star gazing!
---
Star Gazing Etiquette (…or "How to Keep Our Astronomers Friendly and Happy")

We ask that you adhere to the following when star gazing with us:
1. If you plan to participate with a sizable telescope and need to setup next to your vehicle, please arrive and setup before it gets dark. Don't drive up to the telescopes after dark.
2. If you are a visitor without a telescope, park nearby, but not next to the telescopes.
3. No unannounced flash photography after it gets dark. Flash photography destroys night vision and can be extremely upsetting to astronomers and visitors. If you desire to take a couple of flash photos, please get permission from some of the astronomers and make a loud verbal announcement to the entire group of your intentions to forewarn the group prior to taking each photo. No surprises please!
4. NO WHITE LIGHTS! Because of the need for night vision, use only red-light flashlights.
5. NO ALCOHOL. Alcoholic beverages are not allowed at our events. CCAS star parties are family events.
6. NO SMOKING! We star gaze in a very dangerous fire area. And we don't want smoke on our optics.
7. Closely supervise all children. This is not a play area. Only bring children who can understand and appreciate the stargazing experience. There is expensive equipment all over star party hill, with many tripped hazards.
---
What if it rains?
We highly suggest joining our email list, where you'll get the latest information on whether a star party is a GO or NO-GO depending on weather conditions.  We'll also send you an astronomy guide to help you get started in your astronomy adventure!