Starry Nights at Terrace Hill
Interested in learning about the night sky?
Starry Nights is an outdoor planetarium-style star show at Terrace Hill (check calendar) by the Central Coast Astronomy Club. Star show lasts approximately 30 minutes, and it's a great way to get to know the ever-changing night sky.
All you have to do is come out, hike a small hill for five minutes, meet us at the top, and look up. It's free and educational, and no reservations required. The star show starts one hour after sunset, and it's weather permitting. Clouds, fog, and bad weather cancel the event.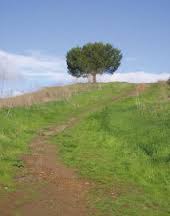 If you've got binoculars, bring them along. Otherwise, you can use ours. Some folks like to bring a blanket or chairs to sit on.  This is a family friendly event, which means no alcohol or smoking. And please, no pets.
It's easy to find the Terrace Hill Trailhead! While heading south on Johnson Ave, turn right onto Bishop Street. Trailhead is located on the right side after the first stop sign. Look for an astronomer at the top – they are usually looking up at the sky.
Check our calendar for location and date information.