Lee Coombs is an outstanding astrophotographer, having numerous photos published in astronomical magazines.  He is very serious about his photography work as demonstrated by his well designed and equipped home observatory in Atascadero.

Glenn Elliott has a great home observatory in Santa Maria and a Meade LX200 GPS 10″ f/10 SCT. All of Glenn's astrophotography is with SBIG CCD equipment.

Russ and Cheryl are the founders and operators of the Orion Institute located near beautiful Santa Margarita Lake, about six miles south of the small community of Santa Margarita, California.  Both Russ and Cheryl study, speak and write about areas of cosmic and human evolution, from the Big Bang to mankind's future.
Oak Hill Observatory Following Walt's first-time visit to the Riverside Telescope Maker's Conference at Big Bear this weekend, the home observatory bug accompanied him on the drive home.  Not having a decent backyard to accommodate a standard roll-off roof observatory and wanting to steer away from tearing up the lawn, flower beds and sprinkler system, it was decided that the best bet was to be on top of the backyard wall.  A new "observatory patio" is born.  A long ways to go.  A great deal of the excavation work is extremely solid shale material, so there is a lot of pick work.  Dynamite would really be great, but Walt's wife would not like the consequences.

Dark Ridge Observatory Tom Smith's world-class amateur CCD astronomy work and expertise in designing and building fully robotic observatories, is quickly becoming recognized across the U.S., many of which are partnering with Tom in operating telescopes robotically from his new observatory.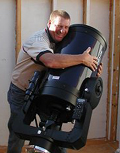 Kent Wallace is our celestial advisor and world-renowned planetary nebula expert. Kent spend many years learning the dark skies using this 8″ SCT telescope. In recent years, however, his main telescope is a 20″ Star Splitter Dobsonian, which can be seen at the monthly club star parties.