Become a member or renew today!
Membership is $20 per year per family, or $15 per year for seniors and students. It's easy and fast to join! You can sign up or renew using the form below, or you can send a check to our treasurer here. (Be sure to send us an email so we can add you to our email list) If you prefer to renew with cash, you can renew at a club meeting through Lee Coombs.
If you choose the easy auto-renewal option, your membership will renew automatically (you can cancel anytime using this link). Choose the type of membership by selecting from the form below using our secure payment server. Select the membership type that works best for you:
Paying by credit card? After clicking the "Buy Now" or "Subscribe" buttons, you'll be taken to a PayPal login screen. Instead of logging into PayPal, you can click, "Try another way". Clicking that link will take you to a secure credit card payment screen.
Ongoing One Year Annual Membership

easy auto-renewal subscription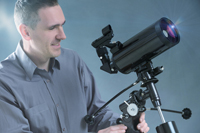 One Year Annual Membership

one-time, one-year membership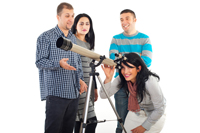 After joining, you will be taken to a Thank You page with all the information you need to get started with your membership! We are so excited you are joining us in sharing the wonders of the universe through regular public lecture programs and star parties, special astronomy events, club telescopes, monthly newsletters of articles and events, and through this website.
BENEFITS OF MEMBERSHIP
Subscription to Celestial Observer Newsletter, our monthly bulletin of articles and events
Interaction with excellent speakers as they present astronomical research, basics of astronomy lectures, and more
Sky & Telescope and Astronomy magazine discounts

To begin your subscriptions, send an email to Lee Coombs and provide your full name and mailing address. Then follow up by mailing a check, payable to Central Coast Astronomical to P.O. Box 1415, San Luis Obispo, CA 93406. Subscription prices are $34/year for Astronomy Magazine and $33/year for Sky and Telescope. Note that you'll be responsible for renewing directly with the magazine but will continue to receive the discounted price as long as you remain a CCAS member.

Social events, such as our annual member's holiday parties and summertime Star-B-Que events
Club telescopes – use one of the club's loaner scopes, complete with instructional lessons through our Mentoring Program
Field trips to observatories and other locations of scientific interest, such as Mt. Wilson Observatory in Pasadena, Chabot, Space and Science Center, Fremont Peak, and the Stanford Linear Accelerator Center (registration fee may be required)
Extended observing hours on public nights and private observing sessions exclusively for CCAS members
Assistance from club members, and other "how-tos" to help you best enjoy amateur astronomy and astrophotography
Beginner astronomy classes for entry-level astronomers to learn how to work telescopes and point it int he right direction
Questions about membership? Call Lee Coombs at (805) 466-2788 or by email. Already a member and wish to unsubscribe or cancel your membership? You can do that here.
Follow Us: