Not a Member Yet?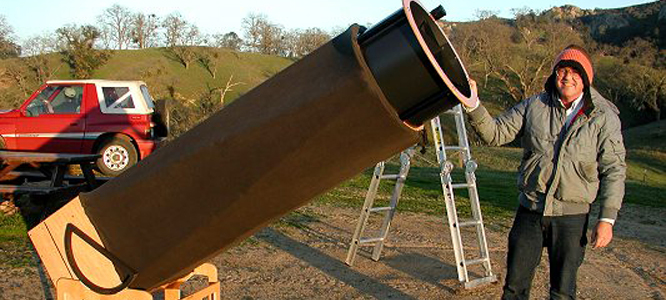 Founded in 1979, the Central Coast Astronomical Society (CCAS) is an association of people who share a common interest in astronomy and related sciences. Our membership consists of people from all walks of life, ages and educational backgrounds.
We're a friendly group of folks from students to young families to seniors and retired researchers who all share a passion for both astronomy and sharing it with others. Members get to borrow telescopes, get complete operational instruction from our friendly astronomers, listen to cutting-edge presentations about the latest in astronomical research, and get connected to a huge array of knowledge from the ground up.
Become a member or renew today!
Membership is $20 per year per family, or $15 per year for seniors and students. It's easy and fast to join! Click on the rate that applies to you:
Shopping at CCAS Annual Membership
We are committed to sharing the wonders of the universe and we achieve our goal through regular public lecture programs and star parties, by publishing a monthly bulletin of articles and events, and through this website.
Want to register and pay by check? Download our application form here.
BENEFITS OF MEMBERSHIP
Subscription to Celestial Observer Newsletter, our monthly bulletin of articles and events
Interaction with world class speakers as they present cutting edge astronomical research
Sky & Telescope and Astronomy magazine discounts
Social events, such as our annual Star-B-Que
Club telescopes – use one of the club's loaner scopes, complete with instructional lessons
Access to 'Members Only' are of the website containing observing tips, scope tricks, and educational articles for all levels
Field trips to observatories and other locations of scientific interest, such as Mt. Wilson Observatory in Pasadena, Chabot, Space and Science Center, Fremont Peak, and the Stanford Linear Accelerator Center (registration fee may be requested)
Extended observing hours on public nights and private observing sessions exclusively for CCAS members
Assistance from club members, and other "how-tos" to help you best enjoy amateur astronomy and astrophotography
Questions about membership? Call Lee Coombs at (805) 466-2788 or by email.