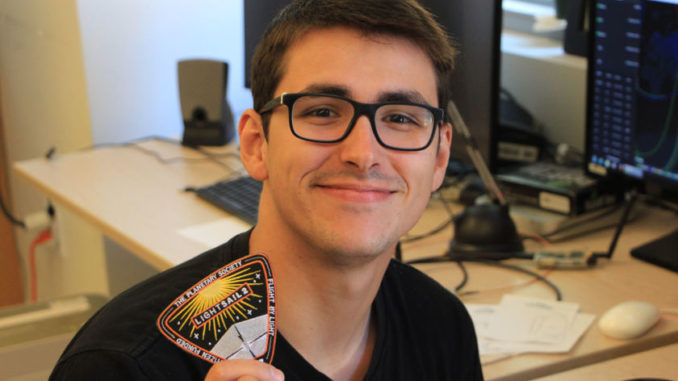 LightSail is a citizen-funded project from The Planetary Society to send a small spacecraft, propelled solely by sunlight, to Earth orbit.
We are going to be streaming the regular CCAS meeting straight from us to you, so you can participate online from home.
The SLO United Methodist Church will be closed, so we will NOT be having a meeting that night, however we intend to still have a speaker presentation for you to participate in! You will get to discover, learn, and ask questions as we go along! All you need is an internet connection. You can use an iPad, laptop, computer or cell phone. When 7pm on Thursday night rolls around, click the link below to join our class.
This button will be active when it's time for our event.

IMPORTANT: You don't need to install any special software or programs or apps to view this broadcast – all you need to do is click the link below to join the meeting tonight. If you have trouble connecting to the streaming broadcast, here are things you can try:
Click REFRESH to reconnect your page.
Try a different browser, and if that doesn't work, try an entirely computer or device.
If all else fails, we will be recording this and posting the recording on our website after, so you can watch on your own schedule. We are posting it right back to THIS PAGE so come back anytime to watch it.
ABOUT THE GUEST SPEAKER:
It took 10 years to transform The Planetary Society's crowdfunded LightSail 2 mission from an idea on the drawing board into a space mission. Dozens of people worked on the project over the years, backed by funding from more than 50,000 Planetary Society members, private citizens, foundations, and corporate partners.
But out of all those people, only one person, known as the ground operator, can communicate with the spacecraft at a time. That role is often filled by Michael Fernandez, a fourth-year physics undergrad at Cal Poly San Luis Obispo. When he's on duty, you can find Fernandez in the Cal Poly CubeSat Laboratory, also known as PolySat, ready to punch commands into his laptop whenever LightSail 2 is in range of the spindly radio antennas on a nearby roof.
Due to the complexities of orbital mechanics, LightSail 2 is only in range of its ground stations at Cal Poly, Purdue, Georgia Tech, and Kauai Community College for a few minutes each day. During those intervals, it's Fernandez's job to complete any tasks requested by the mission team. He might command the spacecraft to send him some stored telemetry or upload new orbital data that helps LightSail 2 know where it is.
It's not all that different than using a command-line interface to transfer files between computers. Except the computer he's talking to is 700 kilometers overhead, flying at a speed of 7 kilometers per second.
Read more about the Light Sail here.