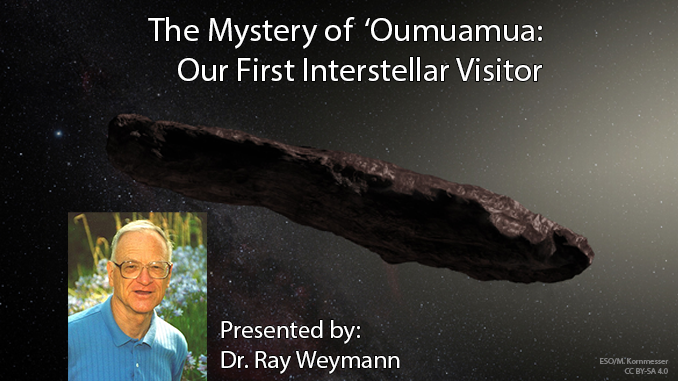 Central Coast Astronomical presents:
The Mystery of 'Oumuamua: Our First Interstellar Visitor
by Dr. Ray Weymann
April 1, 2021
7:00PM (PDT)
During this members only webinar, guest speaker Dr. Ray Weymann will recount the discovery of 'Oumuamua and discuss our current understanding of this mysterious visitor.
CCAS Members will be emailed a personal invitation with a private link and password along with instructions for connecting to this special event.
If you have any questions about this event, please contact Brian P. Cox by sending him an email.
Not a member yet? Please visit this page for more information on joining.
About our presenter: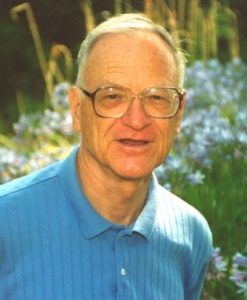 Dr. Ray Weymann is a retired astrophysicist with 40 years experience in teaching and research. His research interests have varied from the history of the early expanding universe to the atmospheres of stars, and combined calculations and observations with some of the world's most powerful telescopes, including the Hubble Space Telescope.
Since retiring and moving to Atascadero, CA his interests have turned to public education about science especially concerning climate science and global warming. He has given dozens of talks to both students in science classes and adult groups with many backgrounds.
He has a website on climate science: http://www.centralcoastclimatescience.org/ He has also taken an interest in the challenges teachers face in our public schools in teaching math and science literacy and has tutored students in both basic and advanced math courses at the high school and junior high school level.
He attended Cal Tech as an undergraduate, and obtained his PhD in Astrophysics from Princeton University. For many years he was on the Astronomy faculty at the University of Arizona in Tucson, serving for some of that time as Department Head and Director of the University of Arizona Steward Observatory.
He is a member of the American Association for the Advancement of Science, and an elected member of the American Academy of Arts and Sciences as well as the National Academy of Sciences.
Follow Us: