Star Gazing Event Info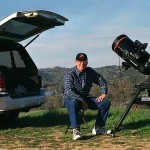 A star party, or star-gazing event, is a very dark, nighttime gathering to view the cosmos through telescopes and binoculars. This is a fundamental activity for astronomy clubs. For some people this is one of their high points each month!
The CCAS hosts a free, public star party once a month on a Saturday, weather-permitting. Weather and event status updates are posted HERE. Beware that sometimes event updates are not posted on the CCAS website at the last minute, so bottom-line: you must understand that driving for a star party can be iffy weather-wise.
Folks with large, bulky telescopes arrive before sunset to set up their telescopes. If you arrive after dark (e.g. you need headlights to see the road), DO NOT drive up the hill. Please park at the base of the hill and talk up. All guests are to park at the base of the hill. It's a quick, steep 2-minute walk to the top of the hill.
It is a very friendly atmosphere. The astronomers who participate with their telescopes are always happy to share their passion for astronomy with each other and with anyone who decides to join them for the evening. The public is welcome to attend, learning a little something about telescopes and the skies and hopefully developing an excitement about astronomy.

Monthly CCAS star parties are open to the public. They are currently being held at the KOA in Santa Margarita. There is no admission charge. You do not have to be staying at the KOA Kampground. If you desire to stay at the KOA, please contact the them for campsite reservations at 805-438-5618.
The safety of people, equipment and vehicles is important during star parties. To make star parties productive and enjoyable, common courtesy for participants and visitors is very important. The Santa Margarita Lake KOA Kampground star party hill is small and becomes congested very quickly.
For these reasons, we ask that you adhere to the following:
1. If you plan to participate with a sizable telescope and need to setup next to your vehicle,
please arrive and setup before it gets dark. Don't drive up star party hill after dark.
2. If you are a visitor without a telescope, park at the bottom of hill. Don't drive up the hill.
3. No unannounced flash photography after it gets dark. Flash photography destroys night vision and can be extremely upsetting to astronomers and visitors. If you desire to take a couple of flash photos, please get permission from some of the astronomers and make a loud verbal announcement to the entire group of your intentions to forewarn the group prior to taking each photo. No surprises please!
4. NO WHITE LIGHTS! Because of the need for night vision, use only red-light flashlights.
5. NO ALCOHOL. Alcoholic beverages are not allowed on the hill. CCAS star parties are family events.
6. NO SMOKING! Star party hill is in extreme brush fire country. Very dangerous fire area.
7. Closely supervise all children. This is not a play area. Only bring children who can understand and appreciate the stargazing experience. There is expensive equipment all over star party hill, with many tripped hazards.
8. Restrooms are available at the KOA office at the bottom of the hill, at one end of the pool.
9. Senior citizens and folks having breathing or walking difficulties, please beware that this is a very dusty area and the walk up star party hill can be difficult and exhausting. It is all dirt road, sometimes slippery from rocks, dirt and dust, so please be very careful and take plenty of time walking up the short hill. It is highly advisable to have someone accompany you holding your hand or arm for added support. And be very aware that walking down the hill in daylight or darkness can also be very difficult due to the slippery condition of the road.
MEMBERS AND VISITORS ATTENDING A STAR PARTY WITHOUT A BULKY TELESCOPE, PLEASE PARK AT THE BOTTOM OF THE HILL. NO DRIVING UP STAR PARTY HILL AFTER DARK!
It is a short walk up the hill. If you are a visitor wishing to attend an event, you might wish to extend your day's outing and stop by the Santa Margarita Lake (while it is still daylight) which is only about another 1/2 mile beyond the the KOA Kampground. It is a beautiful lake and the drive to the lake from the small community of Santa Margarita, just off of Hwy 101, is a beautiful drive. If you make this drive at dusk or at night, be sure to watch out for deer on the road. This is a very beautiful area of our county having oak-covered rolling hills and pasture land, so take your time and be careful making the drive. Santa Margarita Lake is an excellent place for a picnic lunch, so give it some thought. There is an entrance fee to the lake.
Restroom facilities are located at the KOA office at the bottom of star party hill.
NOTE: If you don't have a large, bulky telescope, please park at the bottom of Star Hill. If you have a large telescope and must have your vehicle next to your scope, drive to the top of Star Hill, but do so before sundown. Parking on Star Hill is wagon-circle-style around the perimeter of the small hilltop. Parking on Star Hill is VERY limited, so first-come, first-served. For driving directions, click here.
What if it rains?
We highly suggest joining our email list, where you'll get the latest information on whether a star party is a GO or NO-GO depending on weather conditions.  We'll also send you an astronomy guide to help you get started in your astronomy adventure!