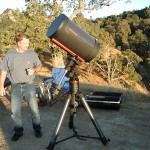 The CCAS provided a star gazing event on May 15th, 2010 to Boy Scout Pack 91 at Lopez Lake – here are the highlights!
From Member Joseph Carro:
We met at Camp Mabel French at 8pm to find about 20 Boy and Girl Scouts and about 15 adults who accompanied them. After setting our telescopes, we gathered at a small amphitheater, and we, the members of the CCAS, spoke to the group. Daniel opened by discussing the formation, life, and death of stars. Larry spoke about constellations, and distributed a star map. Joseph spoke about how telescopes reveal the motion of the earth, and gave a brief review of the composition of our solar system. Several questions were asked by the scouts, and then we walked to the viewing sight. Fortunately, the planet Saturn was visible, and that fact made the evening interesting.
Follow Us: