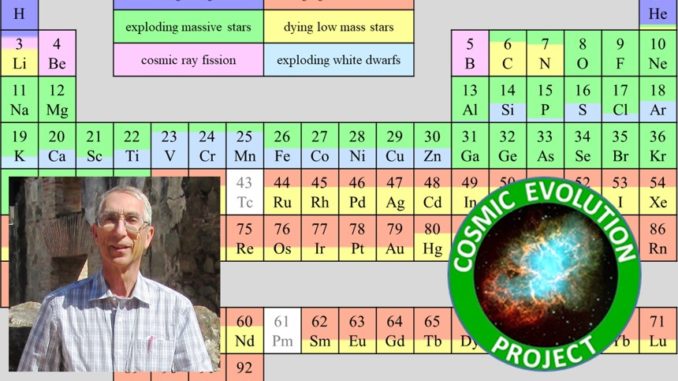 We are going to be streaming the regular CCAS meeting straight from us to you, so you can participate online from home.
The SLO United Methodist Church will be closed, so we will NOT be having a meeting that night, however we intend to still have a speaker presentation for you to participate in!
Special Guest Speaker Dr. Bob Field on March 26th at 7pm
Dr. Bob Field is a Research Scholar in Residence at Cal Poly, and he is our speaker for March! He received his PhD from the University of Illinois and is currently working on research in both planetary and cosmic evolution projects.
We are here because our solar system inherited the Periodic Table elements synthesized by earlier generations of stars that lived and died before the Sun formed. These elements formed the building blocks of planets and life itself. In January, OSU Prof. Richard Pogge skyped about his research exploring some of these elements. Bob will take a deeper dive and talk about the stellar and nuclear processes that formed all of the Periodic Table elements. He will show his own NetLogo and PowerPoint animations of Big Bang nucleosynthesis, cosmic web, star, and planet formation, massive post main sequence stars that go supernova, and remnant neutron stars dissipating gravitational wave energy as they merge and explode.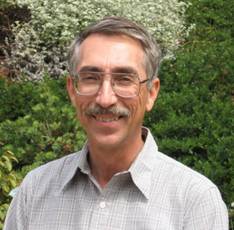 Dr. Bob Field was an aerospace physicist and laser optical system designer and analyst at Rocketdyne and Schafer Corporation. He retired in 1998 and was a docent in our local state parks where he developed many original talks and walks about the natural science behind natural history. As a research scholar in residence at Cal Poly, he has supervised dozens of student geophysics and astrophysics projects and created many animated PowerPoint slide shows and poster displays.
As the founder of the cosmic evolution project, Bob trains and organizes students to give slide and poster talks on campus for the public. His cosmic evolution project website has a stardust webpage at https://evolution.calpoly.edu/stardust. He now works closely with CESAME and seeks more California based collaborations.
Dr. Field earned his BS in physics in 1970 from Case Western Reserve University and his MS and PhD in physics from the University of Illinois in 1972 and 1978, respectively. His experimental solid state physics PhD thesis required him to design and build several state-of-the-art spectroscopic instruments.
On or about April 15, Bob and one of his students will discuss the five billion year evolutionary history of global catastrophes and mass extinctions. On October 5, Cal Berkeley astronomer Alex Filippenko will be the project's third annual consulting guest speaker in Spanos Theatre. Previous speakers discussed exoplanets and galaxy evolution. Previous special events included Dark Matter Day, Darwin Days, and Apollo 10, the coevolution of the Earth and Moon, and We are Stardust.
The mission of the cosmic and global evolution project is to provide inspiration, educational resources, and training to help current and future teachers, informal science educators, and others explore and explain the composition, structure and evolutionary history of the universe and the Earth from the Big Bang to big brains and AI. The focus should be on the sequence of historical events and underlying physical processes themselves rather than the scientific methodologies and evidence used to discover nature's secrets.
The National Academy of Sciences says that the role of science is to provide plausible natural explanations of natural phenomena. Astrophysicist Eric Chaisson asks how islands of complexity can exist for long periods of time in an otherwise sea of chaos. The short answer is that when energy flows, complexity grows. Cosmic evolution projects explore how cosmic webs, galaxies, black holes, stars, interstellar matter, planets, life, brains, and artificial intelligence evolved from primordial quantum density fluctuations.
Learn more about Dr. Field here.
Follow Us: