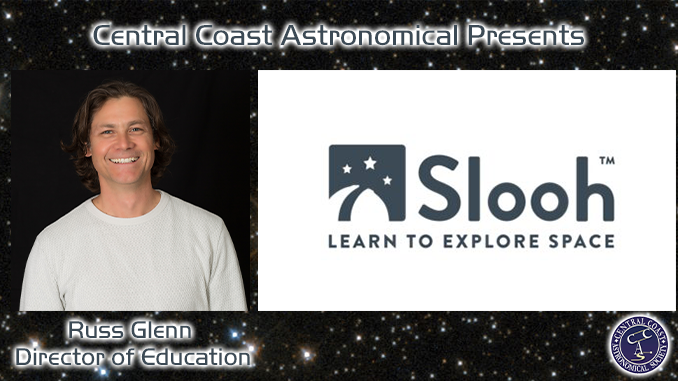 Our speaker for July is Russ Glenn, the Director of Education for Slooh.
Designed to inspire, Slooh's education curriculum is the fruition of Slooh's National Science Foundation grant, 'Curriculum Driven Gamification of Space Exploration'. Slooh offers:
Robotic Telescopes: Slooh provides real-time viewing and control of robotic telescopes, including seven telescopes situated at its flagship observatory at the Institute of Astrophysics of the Canary Islands, one of the world's top observatory sites, three telescopes based in Santiago, Chile, offering complementary views of the southern skies.
Clubhouses: Offer students a safe and private environment to exchange ideas with their peers, ask and answer questions, and find assigned learning materials.
Gamified Curriculum Quests: Students learn to explore space in a self directed manner by completing learning activities which challenge them to use the telescopes to collect and analyze data and form their own conclusions.
Click the image below to join the live stream.
Watching from a Smart TV? Log into YouTube from a computer and subscribe to our YouTube channel.
Then log in to the same YouTube account from your Smart TV and visit our channel.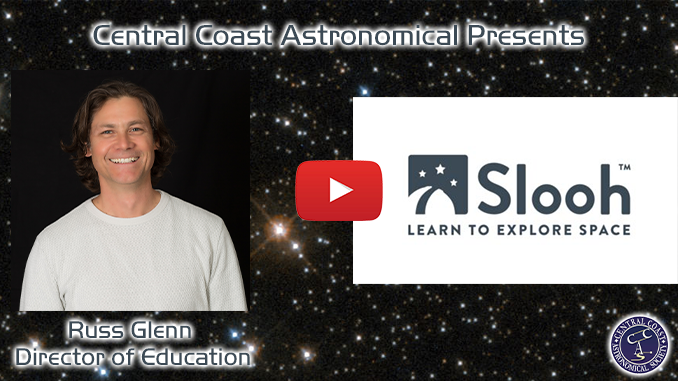 IMPORTANT: You don't need to install any special software or programs or apps to view this broadcast – all you need to do is click the link above to join the meeting tonight. If you have trouble connecting to the streaming broadcast, here are things you can try:
Option 1: Watch the stream directly from our YouTube channel
Option 2: Click REFRESH to reconnect your page
Option 3: Try a different browser, and if that doesn't work, try an entirely computer or device.
Option 4: If all else fails, we will be recording this and posting the recording on our website after, so you can watch on your own schedule. We are posting it right back to THIS PAGE so come back anytime to watch it.
Follow Us: