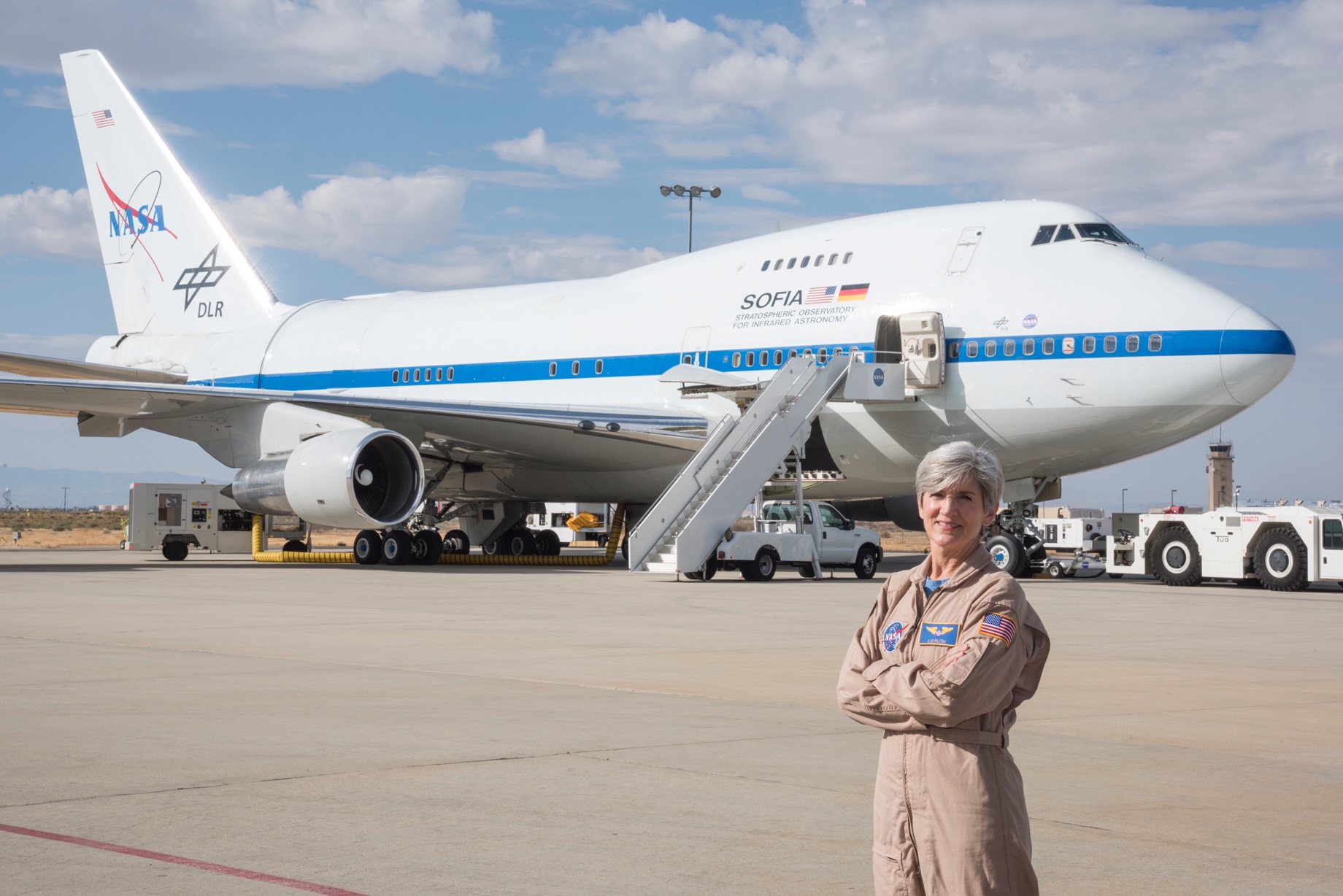 NASA's Stratospheric Observatory for Infrared Astronomy (SOFIA) will be open for viewing to invited individuals on Saturday, Oct. 19, 2019, in Silicon Valley. SOFIA is a Boeing 747SP jetliner modified to carry a 106-inch diameter telescope. Flying into the stratosphere at 38,000-45,000 feet puts SOFIA above 99 percent of Earth's infrared-blocking atmosphere, allowing astronomers to study the solar system and beyond in ways that are not possible with ground-based telescopes.
We are excited to bring our airborne observatory to NASA's Ames Research Center to share the aircraft, its telescope and our science with researchers in the field and beyond.
We are reaching out to you to extend this invitation to attend our viewing event, and in the hopes that you will share it with your professional community and others who would have significant interest in learning more about SOFIA and interacting with the team. Subject matter experts will be available during your visit to answer questions about the use and specifics of the observatory. Maybe you'll make a connection and be flying yourself, your science or your instrument in the future!
Free tickets for the event will be available for reservation starting October 1, 2019. We anticipate the reservations will go quickly, so please reserve your tickets as soon as possible if you wish to attend. Please follow this link to register yourself and any guests: https://nvite.jsc.nasa.gov/RSVP/?id=l7tz4
All guests must be U.S. citizens or permanent residents to register for the event. No guests under 10 years of age will be admitted. The viewing of SOFIA, including wait time in line, may take as long as two hours, possibly more.
We hope you'll join us to learn more about NASA's flying observatory!
Thanks,
NASA Ames Research Center
Office of Communications
More About SOFIA
SOFIA is a Boeing 747SP jetliner modified to carry a 106-inch diameter telescope. It is a joint project of NASA and the German Aerospace Center, DLR. NASA's Ames Research Center in California's Silicon Valley manages the SOFIA program, science and mission operations in cooperation with the Universities Space Research Association headquartered in Columbia, Maryland, and the German SOFIA Institute (DSI) at the University of Stuttgart. The aircraft is maintained and operated from NASA's Armstrong Flight Research Center Building 703, in Palmdale, California. 
SOFIA is designed to observe the infrared universe. The observatory's mobility allows researchers to observe from almost anywhere in the world, and enables studies of transient events that often take place over oceans where there are no telescopes. During 10-hour, overnight flights, SOFIA observes the solar system and beyond at mid- and far-infrared wavelengths gathering data to study star birth and death, formation of new soar systems, identification of complex molecules in space, planets, comets and asteroids in our solar system, nebulas and galaxies, celestial magnetic fields, and black holes at the center of galaxies.
Unlike space-based telescopes, SOFIA lands after each flight, so its instruments can be exchanged, serviced or upgraded to harness new technologies. Because these new instruments can be tested and adjusted, SOFIA can explore new frontiers in the solar system and beyond and serve as a testbed for technology that may one day fly in space.

Ames is home to the SOFIA Science Center where onboard mission systems are developed, research flights are planned, and data from celestial observations are reduced, delivered to the scientific community and archived. Throughout SOFIA's development, Ames staff have played a major role performing wind tunnel and computational fluid dynamics tests on SOFIA design configurations; structural design, development, and assembly of observatory components – in particular the telescope cavity's Upper Rigid door; and software systems development that enables the telescope and instruments to collect data at infrared wavelengths.
Follow Us: