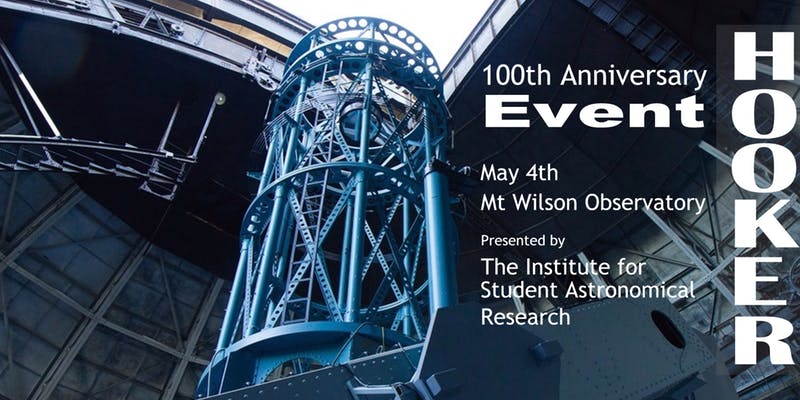 You are cordially invited to attend a gala event celebrating the 100th Anniversary of the Hooker Telescope on May 4th from 1 PM – 11:30 PM at Mt. Wilson Observatory.
The 100-Inch Hooker Telescope
The 100-inch (2.5 m) Hooker telescope located at Mount Wilson Observatory, California, was completed in 1917, and was the world's largest telescope from 1917 to 1949. It is one of the most famous telescopes in observational astronomy in the 20th century.
The Hooker was used by Edwin Hubble to make observations from which he produced two fundamental results that changed the scientific view of the Universe. Using observations he made in 1922–1923, Hubble was able to prove that the Universe extends beyond the Milky Way galaxy, and that several nebula were millions of light-years away. He later proved that the universe was expanding.
The Hooker 100-inch telescope was officially opened for research in 1919, just two weeks before Hubble arrived. Although first light had been earlier, they waited until the war was over to officially open at the Mount Wilson Observatory.
The observatory also features the CHARA array, built by Georgia State University, it became fully operational in 2004 and was the largest optical interferometer in the world at its completion.