Join CCAS officer, Dr. Lee Coombs as he presents a tour of the Moon. He will discuss its formation and terrain while diving deep into the features that one can observe starting with the 5 day Moon, and ending with the 11 day Moon. This will include features that one can see with binoculars as well as telescopes.
CCAS officer Brian P. Cox will also share a live view of the moon (weather permitting).
Everyone is welcome to join! From amateur astronomers learning to identify areas and formations they have been looking at their whole lives, to the more advanced observer, this presentation will give you a seven day-to-day tour of Lunar details which can be performed any month of the year.
Click the image below to join the live stream.
Watching from a Smart TV or Roku?
Log into YouTube from a computer and subscribe to our YouTube channel.
Then log in to the same YouTube account from your Smart TV and visit our channel.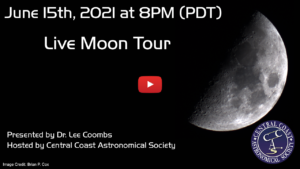 IMPORTANT: You don't need to install any special software or programs or apps to view this broadcast – all you need to do is click the link above to join the meeting tonight. If you have trouble connecting to the streaming broadcast, here are things you can try:
Option 1: Watch the stream directly from our YouTube channel
Option 2: Click REFRESH to reconnect your page
Option 3: Try a different browser, and if that doesn't work, try an entirely computer or device.
Option 4: If all else fails, we will be recording this and posting the recording on our website after, so you can watch on your own schedule. We are posting it right back to THIS PAGE so come back anytime to watch it.