Join Brian from Central Coast Astronomy & Aurora from Supercharged Science
as they go over what you need to know to get started touring the night sky with a pair of binoculars!

Click the image below to join the live stream.
Watching from a Smart TV or Roku?
Log into YouTube from a computer and subscribe to our YouTube channel.
Then log in to the same YouTube account from your Smart TV and visit our channel.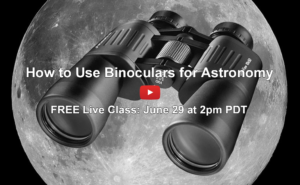 IMPORTANT: You don't need to install any special software or programs or apps to view this broadcast – all you need to do is click the link above to join the meeting tonight. If you have trouble connecting to the streaming broadcast, here are things you can try:
Option 1: Watch the stream directly from our YouTube channel
Option 2: Click REFRESH to reconnect your page
Option 3: Try a different browser, and if that doesn't work, try an entirely computer or device.
Option 4: If all else fails, we will be recording this and posting the recording on our website after, so you can watch on your own schedule. We are posting it right back to THIS PAGE so come back anytime to watch it.
Follow Us: