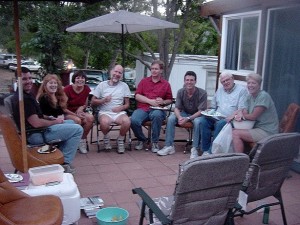 Our next CCAS meeting is Thursday, September 23, 2010 from 7-9 PM. Guest Speaker and Movie Night!
We'll be watching one of Aurora's favorite astronomy movies (45 min.) as well as being treated to a short Guest Speaker topic. Popcorn and laughs provided – you bring yourself and a friend.

LOCATION: United Methodist Church at 1515 Fredericks in San Luis Obispo.  Click here for a map.
CCAS meetings are free, friendly and informal. Members sometimes share photos and information on all kinds of subjects. Occasionally there are special guest speakers and presentations on events or activities in the area. We also partner with Cuesta College faculty and students, so there can be an interesting variation of discussion topics, sometimes very light in content and sometimes moderately heavy in technical information.
Visitors are welcome and encouraged to attend. You do not need to be a CCAS member to attend meetings. Folks are welcome to bring astronomy equipment, books and photos to share with the group. We like to assist in answering questions or help with equipment operation techniques when needed, BUT we must first be aware of the situation. If you wish to bring a telescope or want to discuss the operation of your telescope, FIRST, please contact the CCAS to discuss this, as meetings are sometimes already booked solid with topics, or, there may not be anyone at the meeting who is knowledgeable of the item you need help with.
If you have questions about bringing something to a meeting, or wish to ask specific technical questions, or about meetings in general, just let us know.
Follow Us: