Curiosity has successfully landed on the surface of Mars!
Here are some of the first images:
More images are being posted by NASA here:Â  Mars Science Laboratory Image Gallery
---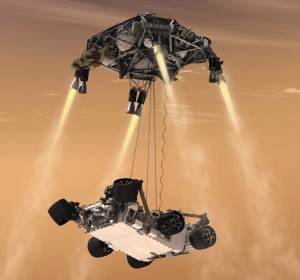 Live coverage starts at 8:00pm on NASA TV and 2:00pm at The Planetary Society's Planetfest
This is the stuff of dreams, imagination, creativity and innovation.
This is especially directed at parents still having children at home to have their children witness something "out of this world" live as it happens. Â This is American STEM education at its absolute finest.
In normal fashion for JPL in Pasadena, this will be no normal, everyday kind of landing, as Curiosity will blast into the Martian atmosphere at 13,000 miles per hour and in a death-defying "Seven Minutes of Terror" come to a soft landing on Mars. Â Fingers and toes crossed. Â And, due to its heavy weight, it will not be landing like Spirit and Opportunity did about 8 years ago landing in cushioned, inflated air bags. Â Curiosity will be lowered to the surface under a rocket-powered sky-crane, never before attempted by any spacecraft. Â Mars Science Laboratory Curiosity is the most sophisticated and complex robotic spacecraft ever built. Â I'm sure JPL engineers and scientists are beginning to bite their nails in anticipation and concern. Â The nights between now and next Sunday will most likely be sleepless for many JPL and NASA folks.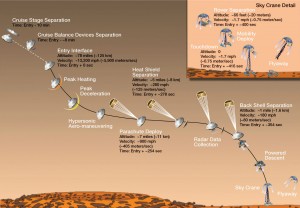 You too can witness this history-making event live, as it happens, via the NASA TV Internet site or TV, or the JPL website, along with millions of people around the world who will be tuning in.
Also, some folks may have heard that there was a problem anticipated with the transmission of the landing telemetry (radio signal), possibly taking hours before we would know what happened during the landing. Â That problem was with America's Mars Odyssey spacecraft orbiting Mars (along with America's Mars Reconnaissance Orbiter and Europe's Mars Express Orbiter). Â A "reaction wheel" that helps control Mars Odyssey's orbital path location had problems, that could have impacted its ability to receive and relay the telemetry as it happens. Â This past week JPL engineers successfully corrected the issue, putting Mars Odyssey back on course to directly receive the landing telemetry and beam it back to Earth as it is happening.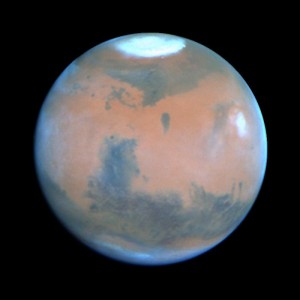 But, bear in mind that the transmission time from Mars to Earth will be about 14 minutes at the speed of light, so Curiosity will have experienced the Seven Minutes of Terror and landed before we get the signals from Mars.
Hold your breath and wish Curiosity the best!
For more details see the NASA Curiosity Mission Page and Walter Reil's Blog
Also be sure to check out live coverage on NASA TV
P.S. Â PG&E meteorologist and SLO County's favorite weather forecaster John Lindsey will be at JPL that weekend as a reporter for the Tribune newspaper to report on Curiosity's landing. Â He will get to experience this event up-close-and-personal.
Follow Us: